Groundbreaking Technology
At Med-Surg Aesthetics and Laser Academy, the technology we use in our training programs is the best of the best. However, our focus is on the science, not the device, meaning that you can readily apply the skills and expertise you'll gain to other aesthetic device brands and procedures. We're here to equip you with "real" experiences to prepare you for success and confidence working in the multi-billion-dollar medical aesthetics industry.
Sciton JOULE
Sciton Joule Platform Laser with Contour TRL Full Field Erbium Resurfacing 2940nm, ProFractional Fractionated Resurfacing 2940nm, BBL (BroadBand Light) pulsed light therapies 420nm, 515nm, 560 nm, 590 nm, 640 nm, and 690 nm.
The Sciton JOULE Aesthetic Laser Platform is our "Bentley of Lasers." It is the first expandable platform on the market that combines multiple, distinctive laser technologies into a single, slender system. The optimal combination of multiple laser wavelengths is delivered through one of three delivery modes: arm, fiber, or broadband light (BBL). As a result, JOULE enables practitioners to offer the broadest range of aesthetic, medical, and surgical treatments from a single innovative platform while providing a simple path to future technologies as they become available.
Sciton JOULE offers a long list of pulsed light treatment options for conditions including bacterial acne, vascular and diffuse redness, pigmented lesions as well as hair reduction and collagen remodeling. Our JOULE platform also offers an ablative Erbium laser for full-field and fractional resurfacing to improve tone, texture, scarring, and a range of skin concerns.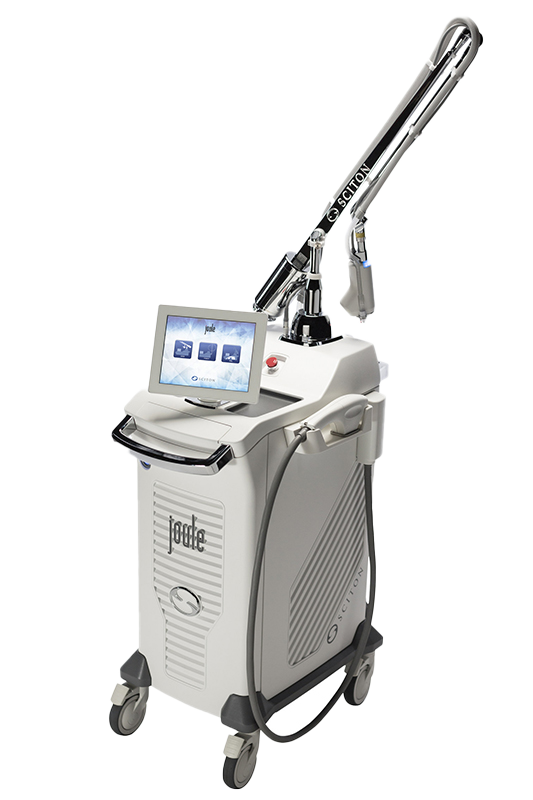 Sciton mJOULE
Sciton mJOULE is a new platform device that combines BBL Hero 420 nm, 515 nm, 560 nm, 590 nm, 640 nm, 690 nm, as well as SkinTyte, and Moxi Fractionated 1927nm Thulium laser.
BBL Hero now with Forever Body BBL virtually erases the visible signs of aging anywhere on the body. The Moxi fractional laser, on the other hand, provides a minimal downtime overall skin rejuvenation treatment as well as what's being termed "prejuvenation" to stave off the signs of aging before they appear. Sciton's mJOULE targets a wide range of skin concerns, including uneven pigmentation, tone and texture, light sun damage, and skin aging. The innovative technology provides gentle correction and long-term maintenance by extending the results of more aggressive laser and light procedures. It helps maintain the long-term appearance of healthy skin.
Cutera XEO Platform Laser
Cutera offers an all-in-one aesthetic system created for today and designed for tomorrow! The customizable, multi-application light-based platform dramatically improves a wide range of common, non-surgical aesthetic concerns from skin revitalization to pigmented lesions, vascular concerns, and hair removal.
The CoolGlide 1064nm Nd:YAG provides safe and effective treatment for a range of conditions. It is optimized for effective hair reduction and targets vascular lesions on the face and body. The proprietary Laser Genesis procedure provides a non-invasive, no-downtime, year-round aesthetic treatment designed to help polish and perfect superficial skin concerns. Laser Genesis offers noticeable skin revitalization in a few short treatments.
Cutera's Limelight IPL (intense pulsed light) encompasses wavelengths from 520nm-1100nm. In addition to hair removal, Xeo and IPL can provide deep dermal heating and improve the appearance of fine lines, wrinkles, age spots, sunspots, benign pigmented lesions, vascular concerns, and more. It also balances color and delivers overall complexion improvement.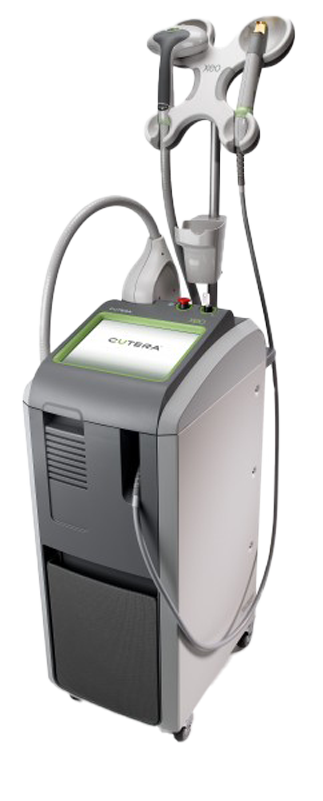 FormaTK ALPHA
ALPHA's 808nm diode laser system features a next-generation "in-motion" IPL technology that delivers fast permanent hair reduction with optimum efficacy and precision with every pulse. The innovative system safely and effectively treats all skin types and offers contact cooling for maximum patient comfort.
The versatile system offers five treatment modes for enhanced flexibility and optimal patient comfort and efficacy: Single, Double, Fast, and Painless, 100MS and 400MS. It also has interchangeable and tunable handpieces to treat benign pigmented and vascular lesions, sun spots, brown spots, acne vulgaris, and more. The innovative technology delivers dramatic skin rejuvenation and renewal.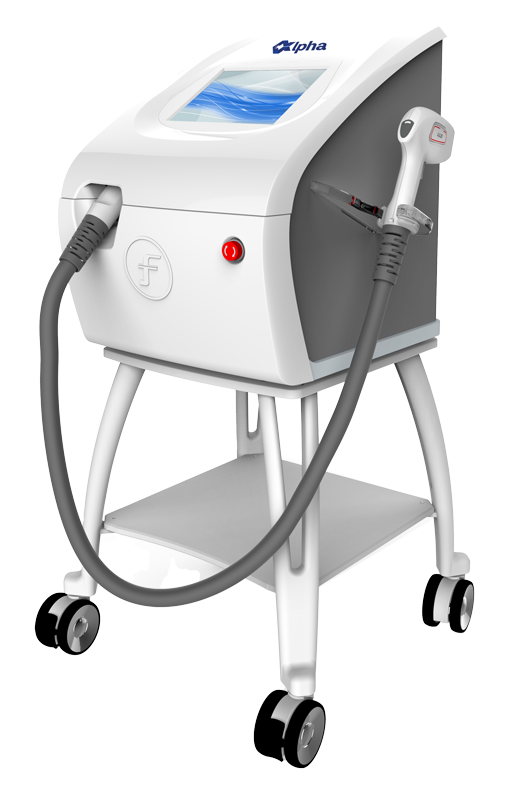 Scarlet SRF
SylfirmX combines continuous wave and pulsed wave microneedling technology to effectively treat a wide range of skin concerns with minimal to no discomfort, downtime, or side effects. The revolutionary device is one of the safest skin tightening and rejuvenating RF systems available today!
What sets SylfirmX apart is it's ability to treat several different tissue layers with specific wound geometry, "the Na effect", developed by Dr. Jongju Na. Focused, independent tissue coagulation around each microneedle electrode allows the device's RF energy to be utilized to its full potential. Other RF systems produce a widespread area of coagulation, resulting in less effective treatment, and resulting in a very temporary improvement.
SylfirmX in continuous wave mode boosts collagen and elastin production, safely and effectively tightening and lifting the skin on the face and body, including the hands, neck, double chin, and décolleté, with immediate, dramatic results. In pulsed wave mode, SylfirmX is indicated for selective tissue coagulation for the improvement of chromophore dependent skin conditions like diffuse redness, melasma, and acne. The versatile, minimally-invasive device also offers a scar revision protocol. This safe and gentle treatment softens fine lines and wrinkles, improves skin tone and texture, reduces pore size, and targets the signs of aging and sun damage. It also improves acne, rosacea, melasma, stretch marks, and so much more!
SylfirmX safely treats all skin types and colors. The innovative treatment protocol reconnects the restored essential components of healthy, youthful skin for optimized dermal health!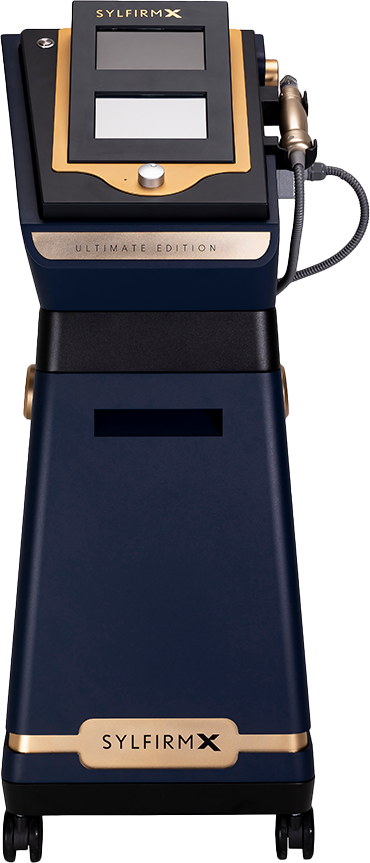 Agnes RF
By adding RF energy to microneedling, Agnes RF delivers a powerful and effective skin rejuvenation experience. As the microneedles penetrate the skin's surface, radiofrequency (RF) energy is delivered deep into the skin's layers, triggering natural healing, boosting collagen and elastin production, and promoting skin cell regeneration. The depth of the needles targets specific anatomical structures of the skin with precision, while their insulated coatings protect the skin's surface.
The groundbreaking radiofrequency and microneedling device delivers dramatic skin rejuvenation without surgery. Agnes RF's predictable technology treats all skin types with minimal discomfort or downtime.
Agnes RF safely and effectively reduces localized pockets of fat, tightens, firms, smooths, softens deep lines and wrinkles, minimizes scars and enlarged pores, treats benign syringomas, and improves skin tone and texture. It sculpts and contours the face, neck, jowl area, and double chin, with noticeable, long-lasting results.
Agnes treats under-eye bags and eliminates eyelid wrinkles with minimal discomfort or downtime. Moreover, it provides an acne cure by selectively destroying sebaceous glands, which eliminates acne outbreaks and reduces the chances of future ones.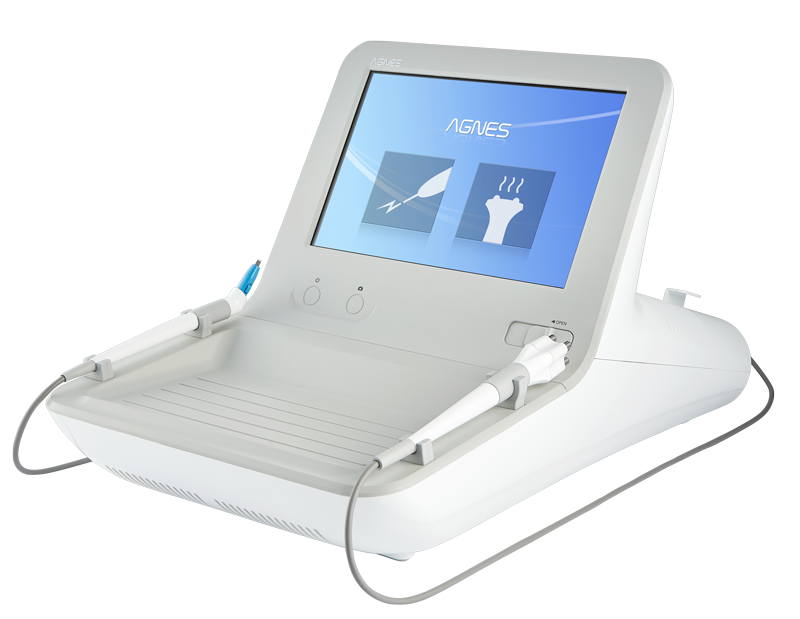 NeoGen PSR
NeoGen Plasma Skin Resurfacing (PSR) offers a non-surgical alternative to facelifts. Unlike light-based laser devices, NeoGen PSR harnesses the power of a highly energized gaseous state known as plasma, the fourth state of matter, to penetrate the superficial and deeper levels of the dermis.
The FDA-approved skin resurfacing and tightening procedure emits plasma energy through its handpiece in controlled pulses, treating the skin's complete architecture. It causes neocollagenesis and the growth of new elastin fibers, delivering a lifted and rejuvenated appearance. The surface skin creates a natural dressing, providing protection and speeding healing. At high energies, the epidermis sheds, revealing new, healthier, and more youthful skin.
NeoGen's fully customizable settings provide treatment protocols ranging from pain-free, no downtime treatments to the equivalent of fully ablative procedures. The innovative treatment tightens sagging skin and improves skin tone and texture with minimal discomfort. It also targets many skin concerns, including hyperpigmentation, fine lines, wrinkles, visible pores, acne scars, and more!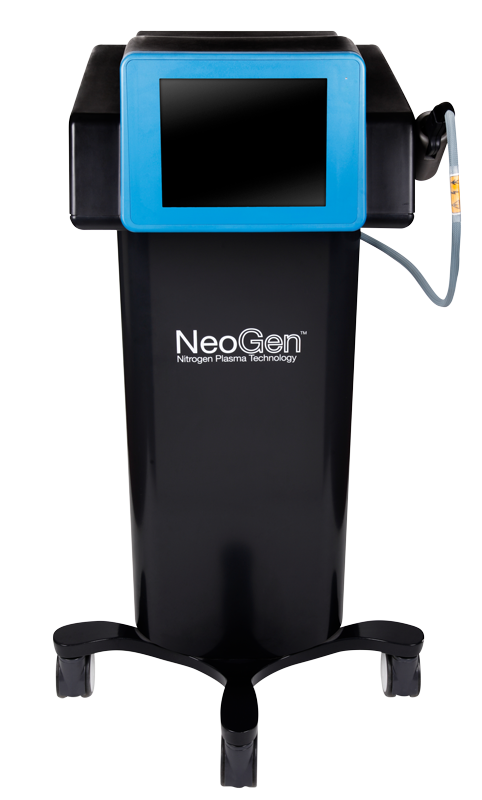 ADVATx
ADVATx is a high powered 589nm yellow laser and 1319nm infrared laser built into one innovative platform. The 589nm wavelength produces long-term reduction of vascular skin conditions, and treatment of pigmented lesions. This simple, intuitive graphical user interface can be safely delegated to qualified technicians. It has no consumables, and is low maintenance.
The 1319 infrared wavelength is indicated for the visible improvement of fine lines and wrinkles, tone and texture, reduction of oil production in the sebaceous glands, and refinement of scars.
Combining these two powerhouse wavelengths provides efficacious reduction of acne lesions as well as offering effective treatment for stretch marks, scars, and wrinkles.